"Without innovation, you stall, your competitors take over, and you die."...Innovation, like many business functions, is a management process that requires specific tools, rules and discipline—it is not mysterious. Execution  is simple once it is clear how the pieces fit together. Company executives typically complain that they cannot get innovation accomplished in their organizations.  Making Innovation Work presents an integrated framework, formal processes and tools that all managers can use to create top­ and bottom­line growth from  innovation. The book describes how to use these standard management tools (such as strategy, organizational design and structure, management systems,  performance evaluation, people, and rewards) to dramatically increase the payoffs from innovation investments.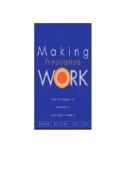 Authors:
Davila, Tony
Epstein, Marc J.
Shelton, Robert D.
Publication Information:
Upper Saddle River, N.J. : Wharton School Pub. 2006
Description:
eBook.
Subjects:
Organizational change--Management
Technological innovations--Management
Industrial management
Categories:
BUSINESS & ECONOMICS / Structural Adjustment
Related ISBNs:
9780131497863. 9780132044882.
Accession Number:
140951
Database:
eBook Collection (EBSCOhost)
"2. Innovation requires measurement and incentives to deliver sustained, high yields. Remember the saying, "You can't manage what you can't measure"?
That certainly holds true for innovation, but many managers have only paid lip service to this crucial aspect. Many companies measure the wrong things and
provide incentives for behavior that corrodes the systems and processes that support innovation. Making Innovation Work shows how to use metrics and
incentives to manage every facet of innovation from creating the ideas, through selecting and forming the prototype innovations, and all the way through to
commercialization. The book has metrics and incentives that can be used by companies of all sizes, complexities, and in all types of industry.
3. Companies can use innovation to redefine an industry by employing combinations of business model innovation and technology innovation. This
book shows how to integrate changes in the existing business model and technology to redefine the competitive environment of an industry—the way Apple
Computers did with the sequential introduction of iPod (a technology change) and iTunes (a business model change). Most companies are significantly better at
one or the other, but few have a truly integrated capability for both significant business model and technology innovation. Making Innovation Work presents a
unique framework that allows management to harness the power of both business model innovation and technology innovation and by combining them, create
competitive advantage, grow, and significantly affect the direction of the industry."